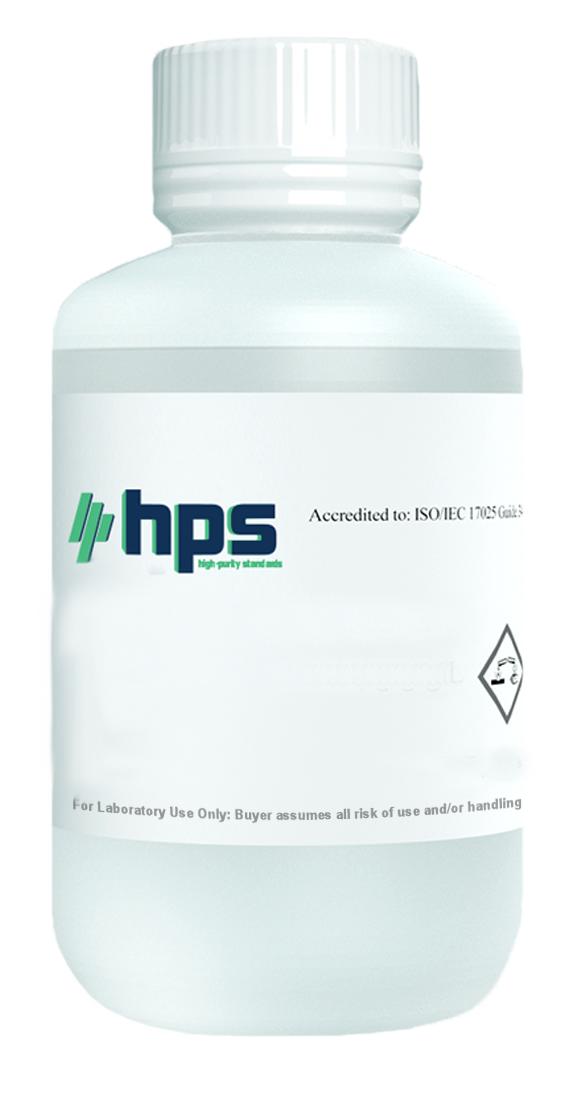 ICP-MS Multi Element Solution Standard, 3 Solution Set with 68 Components at 100 µg/mL.
This standard is traceable to NIST SRM 3100 series. ISO 9001:2015 certified, ISO/IEC 17025:2017 and ISO 17034:2016 accredited.
12 month expiration date.
Solution A: Aluminum, Arsenic, Barium, Beryllium, Bismuth, Boron, Cadmium, Calcium, Cerium, Cesium, Chromium, Cobalt, Copper, Dysprosium, Erbium, Europium, Gadolinium, Gallium, Holmium, Indium, Iron, Lanthanum, Lead, Lithium, Lutetium, Magnesium, Manganese, Neodymium, Nickel, Phosphorus, Potassium, Praseodymium, Rhenium, Rubidium, Samarium, Scandium, Selenium, Sodium, Strontium, Terbium, Thallium, Thorium, Thulium, Uranium, Vanadium, Ytterbium, Yttrium, Zinc in 4% HNO3
Solution B: Antimony, Germanium, Hafnium, Molybdenum, Niobium, Silicon, Silver, Tantalum, Tellurium, Tin, Titanium, Tungsten, Zirconium in 2% HNO3 + Tr HF.
Solution C: Gold, Iridium, Osmium, Palladium, Platinum, Rhodium, Ruthenium in 15% HCl.
Solution A, Solution B, and Solution C can also be purchased separately.